Besök även popmusicinfo.com!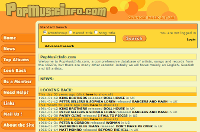 Skivor
Sida 1
Sida 2
My fourth special release was Polydor tracks by The Beatles, Ringo Starr etc
My fourth 7 inch re-release became an EP with 6 tracks in co-operation with the Polydor record company.

First of all I choose three Beatles rarities, the original Polydor version of "Sweet Georgia Brown" with the original lyrics, sung by Tony Sheridan, and not referring to The Beatles. We also added the english and german intros for the song "My Bonnie" but not the song itself as that one isn't so rare and we hadn't space enough on the record to add the complete song.

Other Polydor tracks that I wanted on the EP was the very rare Ringo Starr song "Just A Dream", previously only released as the B-side to "Drowning In The Sea Of Love" on Polydor 2001734 on September 16th 1977.

Side B of the EP had two tracks. First "Badge" by Cream, composed by Eric Clapton and George Harrison, recorded in October 1968 and first released on Polydor LP "Goodbye" on February 28th 1969.

Second track on Side B was "Giddy" the Paul McCartney composition for Roger Daltrey. This was first released on the LP "One Of The Boys" on Polydor 2442146 on May 13th 1977.

So we managed to collect som interesting and quite rare Polydor recordings for this EP that was cut in UK on November 5th 1982 and released on November 18th 1982. I also prepared a special picture sleeve for the record, designed by Lennart Malmbjer.

The record was release in two different pressings, 500 copies each time due to big demand. Interesting to know is that the name of the composer of "My Bonnie" is mis-spelled on the first 500 copies and correct on the second release - so there is a difference to look out for!
RINGO - CD-record by Ringo Starr, sleevenotes by Staffan Olander
In 1990 Ringo Starr asked me to write the sleevenotes for his first four LP's that were planned to be re-released as CD-records during the next two years.

Of course I felt very honoured that Ringo asked me to do this for him and also had the chance to suggest bonustracks from single records etc to be added to the original LP concept.

As you can see on the picture I got this CD from Ringo with his autograph when the CD was released.

Three tracks were added as bonustracks. Ringos single 'It Don't Come Easy' and its B-side 'Early 1970' plus the B-side of the 'Photograph' single called 'Down And Out'.